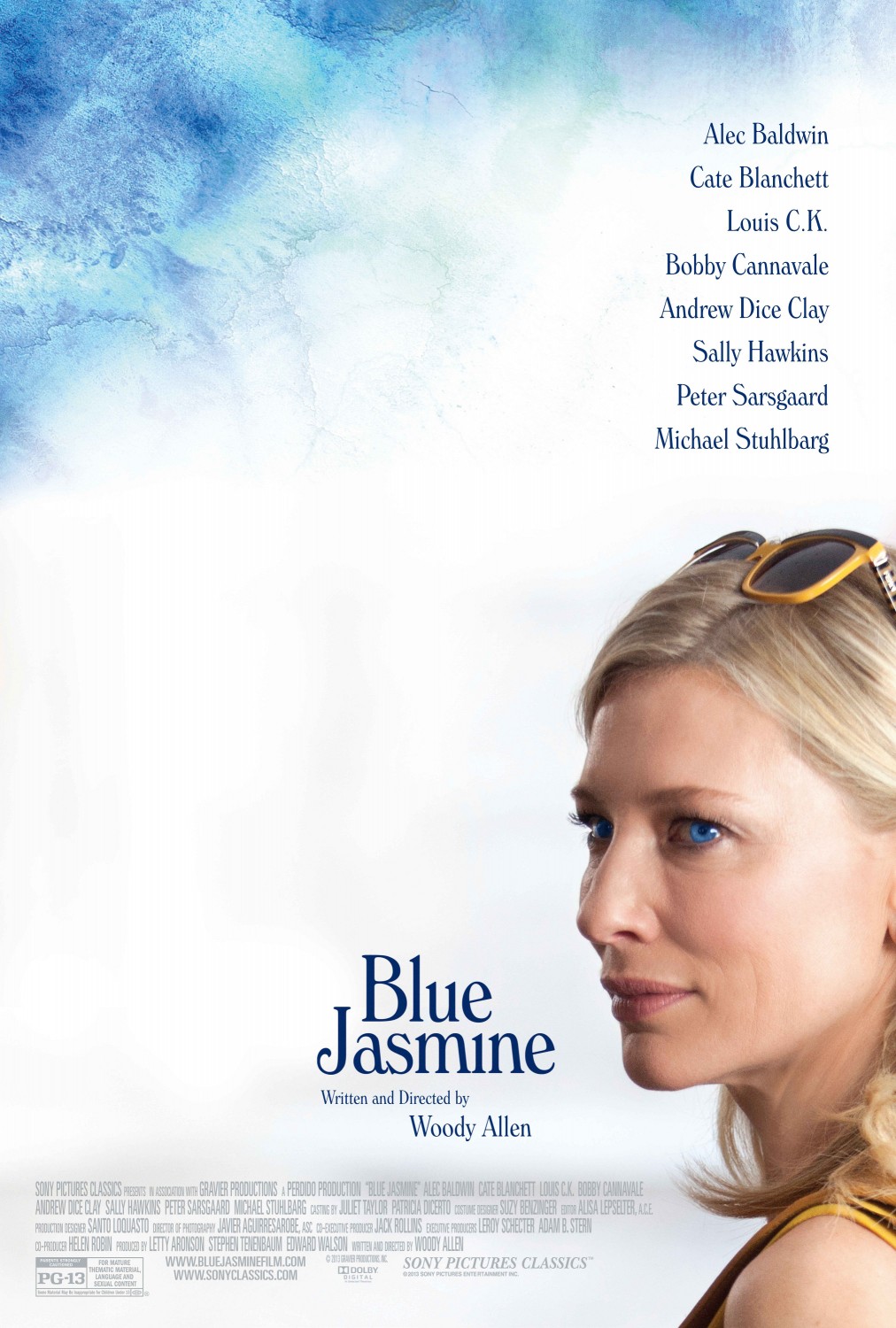 This year's awards season has been plagued by heavy movies. The more light-hearted being American Hustle, but Dallas Buyers Club, 12 Years a Slave, August: Osage County and now Blue Jasmine have set the bar of a new level of depression. All of the above have been great films, and Woody Allen couldn't be the exception.
Cate Blanchett stars a Jasmine French, a Manhattan socialité that falls into poverty after her wealthy husband's downfall, Hal Francis (Alec Baldwin) and attempts to star over with her stranged sister, Ginger (Sally Hawkins), in San Francisco.
Cate Blanchett played her part perfectly as a depressed woman. She's always going back to the life of luxury that she can't have anymore. There's a satyrical part to it with the numerous pills she takes and the sweat on her clothes. The Oscar buzz is very well deserved, she'd likely score at this Sunday's ceremony.
Woody Allen has always got a talent to write remarkable parts for women, like Diane Keaton in Annie Hall. He know how to depict reality and desperation and execute impecably on-screen.
Blue Jasmine has Allen's name written all over it, but in a good way. The flaws are pointed out but not too much. Blanchett's character is real and full of empathy. Sally Hawkins' supporting role is good, but nothing special, not Oscar worthy. It's hilarious the difference the movie sets between the two adopted sisters, not only physically.
Intentional or not, Blue Jasmine makes you feel as if she has a pathology to ruin everything good that might come in her life after leaving New York and Hal, sometimes it's funny. Critics have pointed out that the film is reminiscent of a A Streetcar Named Desire (1951) by Tennessee Williams, others say the inspiration came from the high-profile break up between Woody Allen and Mia Farrow.
Midnight in Paris gets a bit boring at times, it's a 4/5 stars, Blue Jasmine is 4.5/5 stars.
Vivian Russo